First of all I have to say that the tests have no "scientific" validity since only I have repeated them a couple of times each (although with consistent results) and I suppose that they could vary from one day to another depending on various circumstances. But I think that they can be considered equally interesting.
Although I've tried almost all the products of this style that there is out there, which I have used for this comparison are that I use everyday on all my computers, namely: Dropbox, OneDrive and GoogleDrive.
The flow that I used to be connected to the Internet while doing the tests has been 50 Mbps symmetrical (down and up), reserved, proven and real. I have much wider bandwidth but reserving this fragment I simulator a more realistic connection to avoid influences that may be from other computers on my local network that should also go out to the Internet. Use wired local network, not Wifi.
that 3 clouds are disabled speed limits, so always sync possible, within those 50 Mbps maximum speed.
The operating system I have used was Windows 10 with the latest updates and patches to June 2018.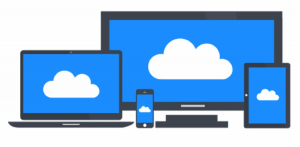 First test: large files
The first test was to synchronize a file of considerable size (without pass).
First I tried using desktop programs for each clouds that automatically synchronize to the corresponding cloud files that you copy to a special folder.
The file in question was an image .iso from a DVD with a size of 259 MB. not too big, but enough to take a long time and be able to measure it well.
The results were as follows:
Dropbox: 35s
OneDrive: 1:15
GDrive: 1:05
The winner was Dropbox. It synchronized to full speed in half the time than the runner-up, GDrive. OneDrive took her a little longer.
Then I repeated the same test, but this time using the Web interface, directly dragging the file to the browser, to see what influence might do so as well. The results are amazing:
Dropbox: 2:15
OneDrive: 1:50
GDrive: 29s
Dropbox and OneDrive are really through the web interface, especially the first. However Google Drive are very fast, in fact much faster that using the corresponding desktop programs. Indeed, they are even faster than the Dropbox desktop program.
Second test: medium-sized files
As second test I used a smaller file In particular was an .msi installation that size 46 MB file.
The size influence the speed of synchronization, let's see the results…
Using the synchronization of desktop client, the times were:
Dropbox: 10s
OneDrive: 13s
GDrive: 21s
And again the winner is Dropbox, although OneDrive follow it very closely. Finally Google Drive took more than twice as long to Dropbox to do synchronization. 
But, what if I do the same test uploading the file directly through the browser, by dragging them over from the file Explorer?. Let's see what happens:
Dropbox: 30s
OneDrive: 21s
GDrive: 8s
Interesting… In this case win Google Drive. Dropbox is last taking almost four times as much (and 3 times more than with their desktop client), and OneDrive exits nor very well.Another result curious, consistent with what happened in the previous case with the large file. What it might be? So I can't say for sure, but I guess that Google Drive customers add much overhead to the synchronization process, and that Dropbox and OneDrive has nothing optimized web process. 
Third test: multiple files
To check if the above may have some influence I assembled a folder 10 video files amounting to 253 MB in total.  it is very similar to the first test, but this time instead of a file will be 10, which allows to make use of data in parallel.
The first test is, as always, through the desktop client. These are the results:
Dropbox: 42s
OneDrive: 47s
GDrive: 1:04
Go. If we compare them with the results of the first test we see weird things. In the case of Dropbox, although it is still the fastest, it is clear that having to manage multiple files at the same time does not improve outcomes, but that worsens them a little. In concrete 20% worse speed. It is still the best. OneDrive does is surprising. Although still winless. It is very good and it shows that OneDrive desktop client takes advantage rather than others. The other two are consistent in the times, there is a little bit significant gain in both cases.
Now let's transfer the same files, but using two web interfaces via the browser. These are the times:
Dropbox: 2:37 (not parallel)
OneDrive: 1:22 (in parallel)
GDrive: 42s (in parallel)
Now it feels a big difference but the reverse. It is as if we had turned to the above list. In this case Google Drive lead the win, since they are much faster than others. Again just why I can make assumptions, but I understand that the GDrive desktop client apart from sending the data to the cloud must manage pieces of file which stored in the local cache and that does take over, but it seems too much difference, so I do not know if the shots will go out there or not. What if surprises me much is the bad that is the interface of Dropbox transferring files directly on the Web. It is not only very slow but that it is not able to upload the files in parallel, so goes one by one and at a rather unfortunate speed, so it is by far the worst. Now yes, the claim of GDrive be much faster to that Dropbox is true, but only in the case of using the web interface to do this.
Conclusions
As I say, the experiment is not very scientific
Better synchronization of desktop client is no doubt the Dropbox. 

And it's no pose, because it is something with which have been obsessed since the first day. 

Google Drive, is the best web interface in terms of speed. 

The worst is that of Dropbox by far.

If you use Dropbox forget to use the web interface except in cases of emergency. Provided that you can use the desktop client.

If you use 

Google Drive 

you need to upload as quickly as possible the files use 

the web interface

and you will save a lot of time.

If you are one of the lovers of 

OneDrive

 , be clear that it is not the best or worst in any case: it always remains in an intermediate position in terms of synchronization speeds. 

Of course, 

the desktop client is always faster

 than the web interface. 

I have to say, however, that the clouds has improved a lot in recent times to make it a viable product (a couple of years ago it was light years away from the others).